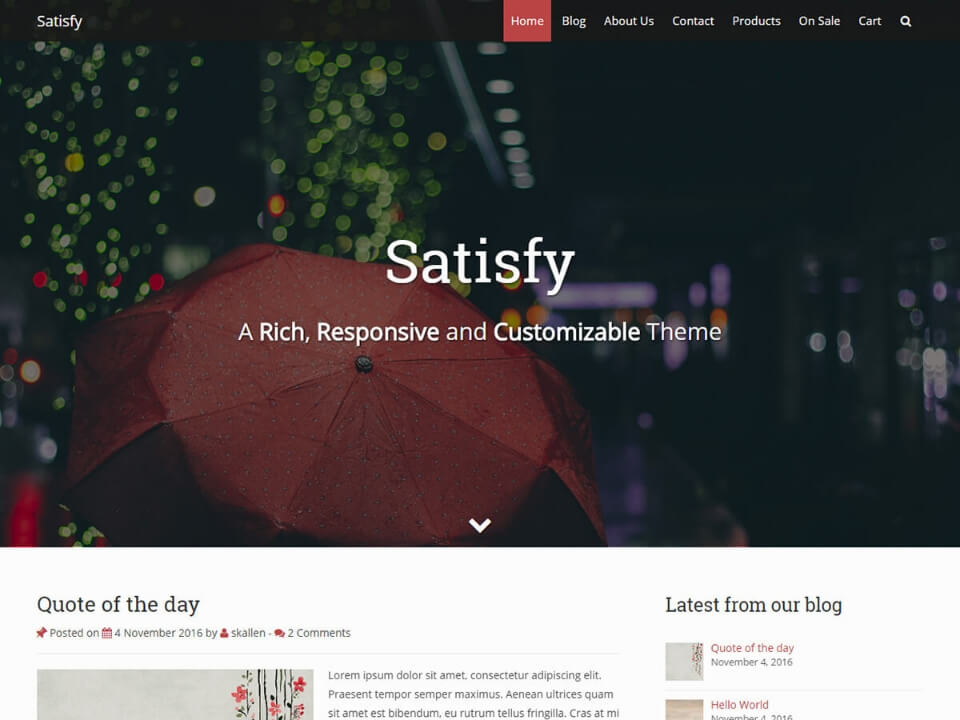 Latest version:

1.1.0

Price:

Free

SHA-256:

14d8fe35e0a1dd18db1ecbad3a3f7982e60649ae63f63d2faa6bffabe97dd7a5
Satisfy is a rich, responsive and customizable WordPress theme. It's built using html5 and bootstrap with a modern design that's both desktop and mobile friendly, and supports all modern browsers and even older ie versions. The themes focus is mainly for blogs but it's also ideal for static, business and other types of sites and is quite easy to set up. It includes 2 new widgets and 3 page templates and when it comes to customization options Satisfy offers plenty. Color options, fonts, icons, featured images, full width headers and much more!
There is a premium version of Satisfy available. Find out more at Satisfy Premium.
Modern & responsive
Satisfy is a theme with a modern and responsive design. Responsive meaning it looks good on all types of devices from small mobile phones to tablets, laptops, desktops and to big TV screens. It also works in all modern browsers and at the moment all the way down to internet explorer version 9.
Header images
With satisfy you can have big header images for your home page, posts and pages. It uses your featured images so you can have different images for the posts and pages of your choice.
Customization options
One of the themes strengths is all its customization options. Everything from colors, fonts, icons, featured images, layout to menus and many more things can be customized to make your site look just the way you want!
Widgets
Satisfy includes two widgets you can use. Latest posts with thumbnail images, and a simple image widget. It also enables widgets to be displayed in your sidebar, on your front page and in your footer which can have up to 3 columns.
Translation ready
The theme is 100% translation ready. All static content can be translated into your sites language. More information on how this exactly is done can be found in the themes admin info page. It's also possible to make Satisfy multilingual.